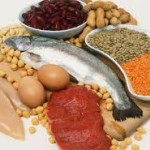 Easy and Budget-Friendly Ways to Eat More Protein:
When it comes to energy, your body needs protein, carbohydrates and fats. These are three sources of energy that your body needs in order to function properly. Fats and carbohydrates are easily available and can be purchased at a relatively inexpensive cost. On the other hand, protein is not as available and this is largely due to cost. Unless you are faced with kidney or liver disease, protein is hardly an item that is restricted from anyone's diet. As a result, consumers are forced to pay top dollar is they are looking to consume more protein. With plenty of protein powders and protein bars on the market that have a tendency to be more on the expensive side, you probably thinking consuming more protein cannot be easily accomplished on a budget. Fortunately, there are a number of easy and budget-friendly ways to eat more protein.
Here are some surprising forms of protein that are on the less expensive side.
Lentils. The only legumes that are more protein-packed than lentils are soybeans and hemp. This makes lentils a great and inexpensive choice for those looking to consume more protein. In most grocery stores, you are able to purchase a one-bag bag of store-brand lentils for under two dollars. Lentils are not only a great source of protein, but they are also high in folate and fiber.
Peas. In just one cup of peas, you may consume as many as 8 grams of protein. Peas are also high in dietary fiber, vitamins B1, B6 and K as well as phosphorus. Peas can be eaten as a snack, in salads or as a side dish. For under three dollars, you can purchase frozen, dried or fresh peas.
Eggs. Chances are you already have eggs in your home. In order to consume more protein, you just may want to consider consuming more of those eggs. A carton of eggs is around two dollars and contains a total of 72 grams of protein.
Parmesan Cheese. Cheeses that are low-moisture are typically highest in protein opposed to other cheese. Did you know that nearly 40 percent of the composition of parmesan is protein. You can add this form of protein to a pasta dish or a salad. Five ounces of parmesan cheese will cost you four dollars or less.
Plain Greek Yogurt. Greek yogurt is high and protein. While some may argue that Greek yogurt is not cheap. You need to consider that Greek yogurt can also be used a substitute for mayonnaise and sour cream. A larger container of plain Greek yogurt is going to be your best bet when it comes to eating more protein and saving money. Look for a large container of Greek yogurt at your local grocery store when it is on sale. You should also check your local paper for coupons. Greek yogurt can be much more affordable than you think.
As you can see, consuming more protein does not mean that you have stock up on expensive protein powders and expensive protein bars. Consuming more protein is more within reach than you may have thought. In fact, you may already have some of these foods in your home right now.
Related Posts