Research shows that individuals who work out with a buddy are much more likely to perform to the best of their ability during a workout and are also much less likely to skip out on a workout. Working out with a friend is a great way to keep yourself accountable with your fitness plan as well as a great way to spend some time with a friend. However finding the perfect workout buddy isn't always easy. You need a workout buddy that is going to be reliable and keep you motivated to achieve your fitness goals. If you are not quite sure where to turn to find that perfect workout buddy, here are some things you may want to consider.
● Make a fitness date with a reliable friend. If you are going to commit to working out with a friend, you are going to need a reliable friend. You are likely going to need a friend who shows up on time and isn't going to skip out on your workout. Look for friends with positive attitudes that are serious about committing to a healthy lifestyle. Another option for a reliable friend may be your spouse, you may already be on similar schedules. Why not commit to a happier, healthier lifestyle as a couple? This can also be a great bonding experience.
● Seek out a workout buddy from your office. Chances are you already know a lot about the work ethics of many of your co-workers. This knowledge can be great when it comes to pairing up with a co-worker for a workout session. You may even know who in the office enjoys running or who is an avid cycler. Going for a run or a bike ride immediately after work is a great way to get your workout in before you can go home and decide you are just too tired to workout. As an added bonus, having a great relationship with your co-workers can make the workday much more enjoyable.
● Don't be afraid to do a little socializing in your group exercise class .You already know you are surrounded by a good number of people who are committed to working out (those who attend class regularly). Don't be afraid to strike up a conversation with some of your classmates. You may just find yourself a new workout buddy or two.
● Look for local workout groups or clubs in your community. There are likely to be a number of walking, running and biking clubs (amongst other activities) in your area. Ask around or browse the internet to find clubs and groups in your area. Join groups or e-mail lists so that you are the first to know about new fitness events in your area. By networking, you are much more likely to meet a number of people who share your fitness interests. Before you know it, you may be making workout plans with someone from your group or club.
● Exercise for a cause. Sign up for a walk or run to benefit a cause. When it benefits something such as a local school, animal shelter or memorial fund, you may be able to get plenty of friends on board. You'll be doing something great for your health as well as the community.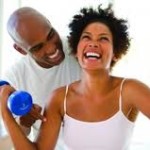 Related Posts