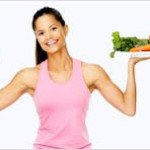 Most of us who have lost weight have had trouble keeping it off. It's not that we don't have good intentions; we just lack the knowledge of weight management techniques and motivation that will stand the test of time.
A recent survey conducted by the University Of North Carolina Of Chapel Hill (in conjunction with Self magazine) concluded that:
• Almost half of women snack even when not hungry
• Over one third of women are preoccupied with the desire to lose weight to the point where this issue interferes with their overall happiness
• Three quarters of women have unhealthy thoughts or behaviors linked to food and dieting
It's obvious that many of us want to lose weight, or once we lose weight, keep the weight off. The problem is most of us can't follow through to make those desires reality. Once we hit a goal weight, we slack off on our efforts and the weight comes right back on.
The following are weight management tips that will help you lose weight (and keep it off after you reach your goal weight):
Figure Out Exactly Why You Want to Weigh a Specific WeightTake stock of the reasons behind your desire to keep the scale at that particular number. Write down every reason that comes to mind, even reasons that might be embarrassing or seem insignificant. Then identify which reasons really matter to you.
Write out what will happen if you don't keep your weight under control. Identify health conditions, social implications and self image issues. Look up statistics on how weight problems affect longevity and other health issues. Think about your goals for your life and how your weight could affect those goals.
Set Specific Goals
Decide how much weight you need to lose to meet your goals. Set a "must lose" goal and a "would like to lose" goal. Then break each of these goals down into smaller goals. Find a way to document all this so you can keep yourself focused and accountable.
Educate Yourself on Healthy Weight Loss and Management Programs
Most of us lose our weight loss motivation because we try to do too much too quickly. We go on a radical diet and starve ourselves for three days, then binge on the fourth and give up on the fifth. Or we run out to the gym and do two super hard classes and end up so sore we can't work out for three days. I have weight loss program on this site, a good place to start.
If you lost weight by using extreme techniques, you are probably at the point where you feel exhausted. You're tired of thinking about losing weight. You're proud of your self control, but realize you're at the breaking point. You know you are likely to start compromising and will see the weight returning. You're worried about this possibility, and yet you know your weight loss efforts might not be sustainable.
To avoid giving up on the way to your goal weight or relapsing after you hit your goal, you need to get proactive. Take change of your weight management efforts now, while you are experiencing victory.
Learn what types of weight loss efforts really work for women (link to weight loss programs article) and take a gradual, slow-and-steady-wins-the-race approach. Don't try anything extreme; instead set yourself up for long term success.
Focus on the Things You Can Control
You can't control how much weight you lose each week, but you can control how much you eat, what you eat, and how much you exercise. Keep track of these three factors through an online tool or in a journal, or find an accountability partner who will help you stick to your plans. Use an online tool to determine exactly what you need to do calorie-wise to maintain your weight or to lose those last few pounds. Make specific goals, write out meal plans and find a way to keep yourself accountable for sticking with the daily plan.
Set Yourself Up For Success
While we'd love to keep our weight loss efforts private, most of us need support from an outside source. Look into accountability programs online or in person. Enlist a trusted friend or relative to help you stay focused and keep on track. The accountability will help you on days when your weight loss motivation is weak or nonexistent.
Weight Loss Management Techniques That Work
When you master these essential principles, you'll find it easier to manage your weight. For a specific weight loss and management plan that will cover your entire next year, read my eBook (coming this month) on healthy habits that support weight loss. You'll learn how to manage your weight without feeling deprived or overwhelmed.
Related Posts