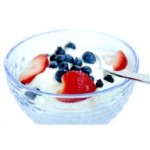 Looking for a seven day meal plan to jumpstart your weight loss plan? Trying to lose belly fat, but don't know where to start? Follow this week long meal plan to lose belly fat and see results. You'll notice this meal plan is high in fiber, lean protein, and fresh fruits and vegetables. It's low calorie but filling and delicious.
Monday
Breakfast
Two eggs with a low-carb English muffin. Feel free to prepare the eggs in any fashion: hard boiled, fried (use nonstick spray, not butter), or scrambled with low fat milk and veggies or a small amount of lean meat like diced ham.
Mid morning snack
1 cup blackberries
Lunch
Burrito bowl with lean ground turkey or chicken, black beans, tomatoes, chilies, corn, lettuce and cilantro.
Mid afternoon snack
Celery sticks with peanut butter
Dinner
Homemade beef stew, light on the beef and potatoes, and heavy on the carrots, celery, and stewed tomatoes. Skip the bread.
Tuesday

Clean Eating (8 Issues)
Breakfast
Old fashioned oatmeal with a sprinkling of nuts, cinnamon and dried cranberries
Mid morning snack
Sliced mango
Lunch
Green leafy salad packed with crudités – broccoli, cauliflower, bell peppers, shredded carrots. Top with lean protein – eggs, grilled chicken or salmon. Go light on dressing – just dip your fork into the dressing before you take each bite.
Mid afternoon snack
Mozzarella cheese stick
Dinner
Lean pork tenderloin baked with half of an acorn squash. Drizzle olive oil inside the acorn squash half and season with salt, pepper, thyme and sage.
Wednesday
Breakfast
Homemade protein shake consisting of: ½ cup low fat milk, ½ cup low sugar vanilla greek yogurt, 2 scoops protein powder, ½ cup frozen unsweetened berries. Need more fiber to keep you full? Add in a tablespoon of Metamucil. Blend and enjoy!
Mid morning snack
One large apple. If you need to spice it up, slice it and sprinkle with ground cinnamon and nutmeg.
Lunch
Hearty chili made with lean ground beef or ground turkey, kidney beans, and tomatoes. Skip the cornbread and cheese but top with low fat sour cream or plain greek yogurt.
Mid afternoon snack
½ cup hummus with 1 cup baby carrots
Dinner
Homemade chicken parmesan. Dip chicken breasts in Italian salad dressing, coat with bread crumbs, and bake in oven in pan sprayed with non stick spray. Drench baked chicken in pasta sauce but skip the pasta and bread. Serve with broccoli or asparagus as a side; sprinkle grated parmesan over everything.
Thursday
Breakfast
Low fat or fat free low sugar greek yogurt or Islandic skyr (my favorite is Siggi's vanilla Islandic skyr – 14 grams of protein but only 9 grams of sugar) with a ¼ cup of blueberries and one tablespoon of nuts.
Mid morning snack
Celery sticks with almond butter
Lunch
Hearty vegetable or seven-bean soup (skip the bread, but allow yourself a packet or two of saltine crackers)
Mid afternoon snack
One ounce of your favorite cheese and one ounce pretzel thins
Dinner
Homemade chicken curry on quinoa. Choose a low calorie premade curry sauce; just cook chopped chicken breasts, add to curry sauce, and serve over quinoa.
Friday
Breakfast
High fiber English muffin with almond butter
Mid morning snack
One cup of strawberries
Lunch
Grilled talapia and a leafy green salad
Mid afternoon snack
One avocado, sliced and sprinkled with lemon pepper or spice of your choice
Dinner
Pork medallions or chicken breasts roasted with chunks of sweet potatoes, drizzled with olive oil and spiced with garam masala (prepared Indian spice mix).
Saturday
Breakfast
Scrambled eggs with lean ham and veggies of your choice
Mid morning snack
Low sugar yogurt
Lunch
Sandwich made with lean cold cuts, lettuce, tomato and mustard or other low calorie condiment. Enjoy with pickles and side of sliced cucumbers or tomatoes.
Mid afternoon snack
Handful of nuts
Dinner
Lean stir fry of lean meat (shrimp, beef, pork or chicken) plus assortment of vegetables (snow peas, carrots, broccoli, bamboo shoots, water chestnuts, onions) and low calorie stir fry sauce. Serve over brown rice.
Sunday
Breakfast
Enjoy a Spanish omelet of two eggs, a tablespoon of milk, chopped tomatoes, chilies, onions, bell peppers and black beans.
Mid morning snack
Banana
Lunch
Saute shrimp with zucchini and summer squash in olive oil with fresh garlic and basil. Sprinkle with parmesean cheese and serve over quinoa.
Mid afternoon snack
Air popped popcorn
Dinner
Baked fish with fresh peas and brown rice. Dress fish with lemon and garlic for extra zest.
How to Lose Belly Fat
Most people lose belly fat first when they lose weight, but not all of us are built the same way. If you tend to store fat around your waistline instead of in your hips or distributed all over, you will want to focus on high protein, low carb meals and start an aggressive core strength exercise program. By strengthening the muscles under your belly fat, you will burn more calories and see results sooner.
Try strength training in general – building muscles in your legs, buttocks, back, stomach, shoulders, and arms will help you burn more calories as you go about your every day routine. Eventually the belly fat will come off. It just takes perseverance, especially once you are over age 40. Patience, plus hard work and discipline with your diet, will pay off.
Related Posts