It's hot out. You don't want to spend time slaving over the stove or baking anything in the oven. You just want something delicious and low calorie that you can eat NOW. The following menu ideas are perfect for those of us who are trying to stay fit over 40 and need to both reduce caloric intake while satisfying appetites.
Use the Grill
Don't feel like cooking over the stove? You can grill just about everything you find at your local farmer's market, plus a good lean cut of meat, for a perfect summer lunch or dinner.
Grilled Meat
Invest in a pantry full of spice packets and pre-made marinades. Look for options that don't require cream at all – stick to the stuff that says just add citrus juice or olive oil. Marinade shrimp, chicken, pork, salmon or beef for thirty minutes in the fridge. Grill for a delicious, healthy, low-cal protein option.
My personal favorite is tarragon-garlic pork tenderloin. Buy a tenderloin (which is very lean pork), trim the fat, and cut slices into both pieces of the tenderloin. Combine 1 tablespoon fresh minced garlic with two tablespoons freshly chopped tarragon and half a teaspoon of freshly ground pepper. Mix with a tablespoon of olive oil to make a paste. Generously fill the cuts you've made in the tenderloin with the paste and then tie the tenderloin back together with twine. Grill until cooked through. Enjoy!
Grilled Veggies
Assemble a medley of any of the following vegetables:
• Summer squash
• Zucchini
• Asparagus
• Brussel sprouts
• Red, yellow, orange or green bell pepper
• Onions
• Mushrooms
• Broccoli
• Cauliflower
Toss in a mixture of olive oil, salt, freshly ground pepper and one of more of the following fresh herbs:
• Rosemary
• Basil
• Cilantro
• Tarragon
• Sage
• Ginger
• Garlic
Wrap veggies medley in tin foil and grill. Squeeze lemon or lime juice on top for a tangy surprise if you don't like the savory flavors so much.
Grilled Fruit
Try grilling thick slices of fresh pineapple, quartered peaches or halved plums. You don't need to prep fruit at all; just cut into large slabs and cook them on the grill, only grilling for 2-3 minutes per side. Grilling brings out the sweetness and adds a delectable smoky flavor.
Try Cold Dishes
All winter long we roast vegetables and bake fish, right? We make hot stews and crave carbs like bread. In the summer, it's time to cool things down, which can lead to some very healthy eating. Try the following menu ideas.
Serve Fresh Fruit
A bowl of mixed berries, especially when topped with a dollop of homemade whipped cream, can feel sinfully indulgent on a hot day. Try dipping just the tips of strawberries in melted dark chocolate or freezing grapes for fun desserts. Chop up a variety of fruits for fruit salad (throw in some mint for a fun change.) Play around with presentation and exotic fruits for variety.
Develop a Taste for Vinegar and Vinaigrettes
If you go to Italy, you'll be served a variety of fresh vegetables drenched in vinegar-based marinades. You can learn to make these yourself by trying the following:
• Experiment with types of vinegars (white, red wine, apple cider, saki, balsamic, fruit-infused balsamics) and olive oil. You'll discover amazing taste varieties that can spruce up a meal.
• Use your favorite oil and vinegar concoctions on fresh, sliced, cucumbers, tomatoes, greens, broccoli, cauliflower, mushrooms, carrots and celery.
• Try marinating veggies for a few hours and note the difference in taste.
• Go simple by rubbing a clove of garlic around the inside of a bowl, filling the bowl with greens, tomatoes and cucumbers, and then tossing with oil and white vinegar. The subtle garlic flavor is refreshing.
Enjoy Lettuce Wraps
Craving a sandwich or noodle dish but don't want to indulge in too many carbs? Get used to making yourself lettuce wraps, filled with delicious cold cuts or hot stir fry mixtures.
Invest in growing heads of lettuce or always keeping fresh lettuce in the fridge. Then start experimenting with combinations of cold cuts, cheeses, and sliced vegetables like tomatoes or roasted red peppers.
I personally get the hankering for dishes like pad Thai in the summer. I handle this by sautéing summer squash from my garden and lean chicken (cut into tiny pieces or ground chicken) with a generous amount of minced ginger, garlic, and chopped cashews. I throw in a large dollop of almond butter or cashew butter and fat free half and half to create a creamy base. Then I eat it inside lettuce leafs. The nuts add a sense of indulgence but the rest of the dish is absolutely wonderful for your body. It's a great way to splurge without feeling guilty.
Summer Foods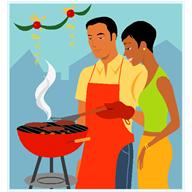 Have fun experimenting with the foods you find at farmer's markets. You'll discover there's a wide range of options available, all of which are good those of us who are committed to staying fit over 40!
Related Posts